433mhz RF Amplifier Transceiver Conversion UHF Segment Power Amplifier 40W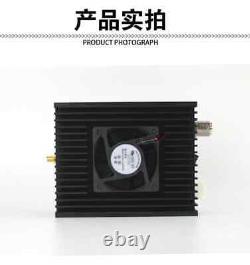 433mhz RF Amplifier Transceiver Conversion UHF Segment Power Amplifier Numbers 40W High Power Mobile Power Amplifier. The RF power amplifier, the main function is the wireless transmission equipment of 400-470MHZ small power original amplifier, the small device with large power to make communication distance more like strangers sound more clearly, this product with half duplex transceiver automatic conversion circuit, suitable for all U intercom and digital equipment, can be the perfect support for digital DMR DPMR, P25, C4FM, SFK frequency hopping and the traditional linear model. Working mode: half duplex (not acceptable under transmit status). Receiver loss: -1DB + 0.4. Heat dissipation mode: 40 degrees temperature control, air cooling.
In the process of contacting many walkie-talkie consumers, it is found that the call distance is a problem that customers often consult, and here we discuss related issues about the walkie-talkie plus power amplifier call distance. In wireless communication, signals are blocked and interfered with by buildings, hills, woods, electromagnetic fields, etc.
Affect the actual call distance and quality, in the ideal state (without any block and interference) walkie-talkie plus power amplifier call distance will be dozens or hundreds of kilometers, while the actual call distance can generally only be between 4 to 20 kilometers, in the case of tall buildings or mountains to block, the call distance will be relatively short. Note: In theory, the transmission power of the walkie-talkie increases by 4 times, and the transmission distance will be doubled under the same environment. Factors that restrict the talking distance of intercom 1, walkie-talkie output power and receiver sensitivity The greater the output power, the greater the signal coverage, the higher the sensitivity of the walkie-talkie communication distance. 2, the gain of the antenna, when the antenna is matched with the machine, it is usually the case that the antenna height is increased, and the receiving or transmitting ability is enhanced if the antenna is not matched.
The frequency band of the antenna is inconsistent with the machine frequency band, and the antenna impedance is not matched, which will seriously affect the call distance. 3, the stronger the transmission output power, the larger the coverage of the transmission signal, the farther the communication distance.
(4) Electromagnetic environment: electromagnetic environment refers to "all electromagnetic phenomena and the sum of them that exist in a given place". With the development of science and technology, human life quality is improving day by day. Information and automation have quickly entered ordinary families, and more and more electronic and electrical equipment used in families have led to the worsening of the electromagnetic environment.