Denon RCD-M41 Radio Discrete Power Amplifier Bluetooth CD 76MHz to 95MHz Unused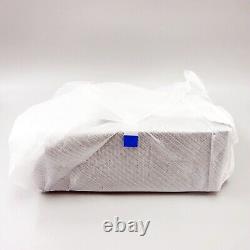 Thank you for visiting our site. We dispatch items from japan. We provide our services based on our motto.
Your complete satisfaction is our ultimate goal. This item is 100% authentic, Japanese goods. Please be assured that we package each item carefully without causing damage. Wireless connectivity with Bluetooth-enabled devices? By wirelessly connecting to Bluetooth-compatible devices such as your smartphone, tablet, or computer, you can enjoy music while browsing emails and websites from a distance.
It also supports AAC, a high-quality codec, so you can enjoy music and games with powerful sound. You can enter Bluetooth OFF mode by pressing and holding the Bluetooth button on the front panel for 8 seconds. Turning off the Bluetooth function enables high-quality playback with less noise that affects sound quality. The CD player section is equipped with a mechanism to read the signals recorded on the disc with high accuracy, taking advantage of the damping technology developed through the development of Hi-Fi audio equipment. In addition to CDs, you can play CD-Rs and CD-RWs that contain MP3 or WMA files.
Some files, such as poorly written discs, may not be playable. Two lines of optical digital input? Equipped with 2 optical digital inputs that support up to 192 kHz/24 bit linear PCM inputs. In the development of this unit, a discrete circuit was newly adopted for the power amplifier in order to achieve specifications and performance closer to Hi-Fi components.
All parts can be selected freely, so as with the preamp section, the sound manager and sound quality engineer repeatedly test and listen to the best parts. With thorough sound tuning, we have achieved sound quality that exceeds class. The noise floor is reduced to less than 50% of the RCD-M 40, improving the transparency of the sound stage. In addition, by eliminating the current limiter in the drive stage, the speaker driving power is increased, enabling dynamic music playback on a large scale.
Purity and Uncolored Sound Reproduced? The simple and straight concept that Denon has cultivated in the development of Hi-Fi components is thoroughly applied to this unit. To avoid the complexity of the circuit configuration, the signal line was minimized by symmetrically laying out the left and right channels. High-speed and stable power supply is achieved by lowering the impedance of the power line on the board. In addition, the digital and analog circuits are separated from the power transformer windings to suppress interference and noise between the circuits.
For the digital and preamplifier circuits, we introduced a large number of Hi-Fi audio-grade sound quality control parts, which are also used in the 1600 NE Series full-size Hi-Fi components, including custom capacitors, thin-film polymer stacked capacitors, and carbon resistors, to further improve sound quality. Headphone Amplifier with Gain Control? In addition to the power amplifier for speaker output, a dedicated amplifier for headphone output has been installed so that you can enjoy high-quality music playback even with headphones. High-speed, low-noise high-speed op-amps for the voltage amplification stage and discrete circuits for the output buffer bring out the headphone's full performance. It also features a three-level gain switching function for optimal volume even with high-impedance headphones.
When the headphones are plugged in, no sound comes out of the speaker jack. It is equipped with an SDB (Super Dynamic Bus) that amplifies the low range according to the volume, an equalizer (High +/- 10 dB, low +/- 10 dB) that can be adjusted to the desired sound quality, and a left/right balance adjustment function. It also features a source direct function for high-purity playback without any sound quality adjustment. The speaker terminals are gold-plated screw types that are compatible with banana plugs.
The gold plating process reduces aging degradation and enables more reliable connections. In addition, the speaker terminals are laid out in a single horizontal row to make it easier to insert speaker cables. It supports FM radio reception up to 95 MHz, so you can listen to Wide FM, an FM supplementary broadcast that is being opened nationwide.
You can also preset up to 40 broadcasters. Inheriting the Design Concept of the NE Series? It has a simple, textured design that follows the design concept of Denon's new generation NE series Hi-Fi components. In addition to the aesthetics, the shape and finish are reviewed with a focus on the feel and ease of operation of the buttons and volume knobs.
4-step display dimmer, display off. Sleep timer that can be set every 10 minutes between 10 and 90 minutes.
Clock display function (clock mode). Playback frequency characteristics: 2 Hz to 20 kHz. Wow flutter: Below the limit of measurement +/- 0.001% W. Sampling frequency: 44.1 kHz. Rated power: 30 W + 30 W 6 ohms, 1 kHz, T.
Profile: A2DP 1.3, AVRCP 1.5. Frequency band/Transmit power/Maximum range: 2.4 GHz band/Class 1/line-of-sight distance: approximately 10 m.
The actual range depends on obstacles between devices, microwave radiation, static electricity, cordless phones, reception sensitivity, antenna performance, operating system, application software, and other factors. Input jacks: 1 analog audio input, 2 optical digital inputs. Output jacks: 1 subwoofer output, 1 headphone output.
Dimensions: W 210 x H 115 x D 309 mm. Standby power: 0.3 W (normal standby), 14 W (clock mode). We accept return items up to 60 days after the item has arrived. However please send the item back to us. Thank you for your seeing my page. Please feel free to question if there is an uncertain point on this page. International Buyers - Please Note. We do not mark merchandise values below value or mark items as "gifts" - US and International government regulations prohibit such behavior.