KH Krohn-Hite 7500 Wideband Power Amplifier DC to 1MHz, Made in USA, Tested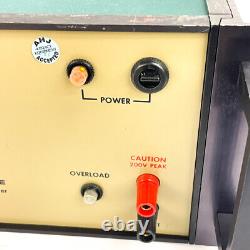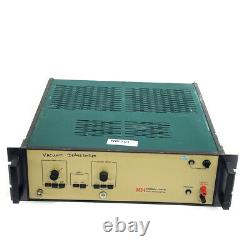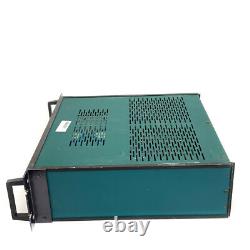 KH Krohn-Hite 7500 Wideband Power Amplifier DC to 1MHz, Made in USA, Tested. The Krohn-Hite Model 7500, is an all solid state, direct coupled amplifier, that. Provides 75 watts of continuous power (150 watts at DC), at 125 volts RMS, from DC to 100 kHz. Frequency response of the 7500 is flat to within 0.1db, and harmonic distortion at full power output is less than 0.1%, from DC to 10 kHz. A front panel control selects 20 db (10) or 40 db (100) of fixed gain, or zero to 40 db of continuously variable gain. The output of the 7500 can be offset ±200 volts, open-circuit, by means of a front panel DC offset control. The 7500 provides selectable input coupling, either direct (DC) or capacitive (AC). The amplifier's output is protected from short-circuit or other abnormal load conditions by a unique output protection circuit, that uses a modified form of foldback current limiting. The output stage is convection cooled by a special heat sink configuration.
An optional rack-mounting kit part no. RK-519 is available for installing the unit in a standard 19 rack spacing.
Frequency Range: DC to 1 MHz. Power: 75 watts, DC to 100 kHz; 40 watts at 500 kHz; 10 watts at 1 MHz. Voltage: 125 volts RMS, DC to 100 kHz; 90 volts RMS at 500 kHz; 45 volts RMS at 1 MHz. Current: 625 milliamperes RMS, DC to 100 kHz; 450 milliampers RMS at 500 kHz; 225 milliamperes RMS at 1 MHz. Frequency Response: Flat to within ±0.1 db, DC to 1kHz; ±1.5 db to 500 kHz; -3 db at approximately 1 MHz. Harmonic Distortion: At 75 watts into 200 ohms, less than 0.1% to 10 kHz, approximately 1.5% at 100 kHz. Voltage Gain: Fixed, 20 db ±0.2 db (X10) or 40 db ±0.2 db (X100), or continuously variable, zero to 40 db.
Gain Stability: Less than ±0.1 db change for a 10% change in line voltage. Dynamic Range: Greater than 85 db.
Phase Shift: Zero ±1 degree from DC to 10 kHz. Phase shift increases linearly to 100 degrees (lagging) at 1 MHz.
Square Wave Response (At 100 Vp-p into 200 ohms): Risetime, less than 500 nsec, overshoot less than 5%. Zero droop in DC coupled mode. Maximum Input Voltage: ±20 volts peak in the VARIABLE and X100 GAIN positions; ±200 volts peak in the X10 GAIN position. Maximum DC Component: ±200 volts (except VARIABLE GAIN position) in the AC position of the INPUT COUPLING switch. Input Sensitivity: 1.5 volts RMS at maximum gain setting.
Input Coupling: Either direct (DC), or capacitive coupling (AC) with low frequency cutoff at approximately 1 Hz. Input Impedance: 1 megohm in parallel with 85 pf in fixed gain modes; 5,000 ohms in variable gain mode. Output Regulation: No load to 200 ohms, less than 0.5%, DC to 10 kHz. Output Hum and Noise (1 MHz Bandwidth): Less than 4 millivolts RMS with input shorted; less than 10 millivolts RMS with input open and shielded. Output DC Level: Normally zero volts.
Output DC Offset (No Load): Variable, zero to ±200 volts. Combined AC plus DC offset limited to ±200 volts. Output DC Level Stability (After Warm-Up).
Line (short term): Less than 1 mv for 10% line voltage change. Time: Less than 2 mv/8 hr. Temperature: Less than 5 mv/°C. Internal Impedance: Less than 1 ohm, DC to 10 kHz; less than 10 ohms at 100 kHz;l less than 75 ohms at 1 MHz. Load Impedance: Capable of drivign any load within the voltage and current limitations of the amplifier.
Load Power Factor: 1.0 to zero, leading or lagging. Ambient Temperature: o°C to 45°C. Front Panel: POWER switch, 3 position push-button GAIN selector, variable GAIN control, 3 position push button DC OFFSET selector, variable OFFSET control, screwdriver control for DC output level. Rear Panel: CHASSIS/FLOATING ground switch.
Front Panel Indicators: Power ON, output OVERLOAD. Front Panel: BNC for INPUT, binding posts for OUTPUT.
Rear Panel: BNC for INPUT, binding posts for OUTPUT, AC power receptable. Power Requirements: 105-125 or 210-250 volts, single phase, 50-400 Hz, 85 watts quiescent, 400 watts maximum. Fuse Protection: AC line, 5 ampere slow blow (115 V), 2.5 ampere slow blow (230 V); output stage unregulated supplies, 1 ampere fast blow (each supply). Optional Rack-Mounting Kit: Part No.
RK-519: Permits installation of the 7500 into a standard 19 rack spacing. Attentively used government surplus item. Tested to power on, not available to test further. Picked up from a discontinuing facility in working condition. As transit time varies by carrier, we are unable to control delays caused by carriers.
It is also subject to change during peak periods. (unless stated otherwise in the listing). Defective items may only be exchanged for the same title.
We take joy in helping you get the gear you want at the price you need. Most of our photos are of the actual item you are purchasing. We work hard to include a lot of pictures of each item. We do our best to describe the items and their conditions. Please see item photos for all the details.
Please note that some of the product descriptions are provided by manufacturers and may not represent the exact color, size or style of the actual item. This item is in the category "Business & Industrial\Test, Measurement & Inspection\Signal Sources & Conditioning\RF & Microwave Amplifiers". The seller is "nevraca" and is located in this country: US. This item can be shipped worldwide.
Country/Region of Manufacture: United States
Maximum Output Power: 75 W
MPN: 7500
Brand: KH Krohn-Hite
Frequency Range: DC to 1 MHz
Model: Krohn-Hite 7500 Wideband Power Amplifier