Krohn-Hite 7500 DC-1MHz 75W Wideband Power Amplifier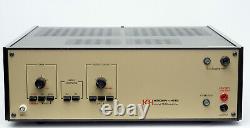 Krohn-Hite 7500 DC-1MHz Wideband Power Amplifier. The Krohn-Hite Model 7500 is a solid state, direct coupled amplifier, that provides 75 watts of continuous power (150 watts at DC) from DC to 100 kHz. Frequency response of the 7500 is flat to within 0.1 dB, and harmonic distortion at full power output is less than 0.1%, from DC to 10 kHz. A front panel control selects 20 dB (X10) or 40 dB (X100) of fixed gain, or zero to 40 dB of continuously variable gain. The output of the 7500 can be offset ±200 volts, open-circuit, by means of a front panel DC offset control. The 7500 provides selectable input coupling, either direct (DC) or capacitive (AC). The amplifier's output is protected from short-circuit or other abnormal load conditions by a unique output protection circuit, that uses a modified form of foldback current limiting.
The output stage is convection cooled by a special heat sink configuration. Output Power, Voltage & Current (Specifications apply using a 200 ohm resistive load). Power: 75 watts, DC to 100 kHz; 40 watts at 500 kHz; 10 watts at 1 MHz. Voltage: 125 volts RMS, DC to 100 kHz; 90 volts RMS at 500 kHz; 45 volts RMS at 1 MHz. Current: 625 milliamperes RMS, DC to 100 kHz; 450 milliamperes RMS at 500 kHz; 225 milliamperes RMS at 1 MHz.
Flat to within ±0.1 dB, DC to 1 kHz; ±1.5 dB to 500 kHz; -3 dB at approximately 1 MHz. At 75 watts into 200 ohms, less than 0.1 % to 10 kHz, approximately 1.5% at 100 kHz.
Fixed, 20 db ±0.2 db (X10) or 40 db ±0.2 db (X100), or continuously variable, zero to 40 db. The item is in good condition, tested and working.
: 25 x 25 x 13.