Krohn-Hite 7500 Wideband Power Amplifier DC-1 MHz, 75 W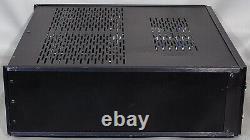 Krohn-Hite 7500 Wideband Power Amplifier DC-1 MHz, 75 W Comes with what you see in the pictures. If you don't see it, you probably won't get it. Specifications are from Krohn-Hite and may vary slightly due to upgrades, options, or revisions this unit may or may not have. The Unit's Serial Number Tag Reads: Model Number: 7500 Serial Number: Multiple Available Power Requirements: 115/230 V, 50-400 Hz, 400 W.
Applications: The Model 7500 is one of the few amplifiers on the market today that offer a combination of power, performance and versatility. Its power and voltage capability, low distortion and flat response, make the 7500 well suited for use in precision meter calibration, transducer driving, bridging applications requiring high input and low output impedance, and as a low distortion ac power source, when used with a suitable low distortion oscillator. Description: The Krohn-Hite Model 7500 was the first direct-coupled, wideband amplifier that offered extended output power and voltage capabilities, low distortion, an advanced, all solid state design, and performance features not previously available. The Model 7500 provides more than 75 watts of continuous power (150 watts at dc), and 125Vrms from dc to 100kHz.
Frequency response of the 7500 is typically flat to within 0.05 dB over most of its range. In addition, the 7500 typically contributes.
Output Specifications (Using a 200 O resistive load): Frequency Range: DC to 1 MHz. Power: 75 watts, dc to 100 kHz; 40 watts at 500 kHz; 10 watts at 1 MHz. Voltage: 125 Vrms, dc to 100 kHz; 90 Vrms at 500 kHz; 45 Vrms at 1 MHz. Current: 625 mArms, dc to 100 kHz; 90 Vrms at 500 kHz; 45 Vrms at 1 MHz.
Frequency Response: Flat to within ±0.1 dB, dc to 10 kHz; ±1.5 dB to 500 kHz; -3 dB at approximately 1 MHz. Harmonic Distortion (at 75 watts into 200 O). Phase Shift: 0° ±1° from dc to 10 kHz. Phase shift increases linearly to 100° (lagging) at 1 MHz.
Squarewave Response (at 100 Vp-p into 200 O): Rise Time. Input Specifications: Maximum Voltage: ±20 V peak in the variable and the X100 GAIN positions; ±200 V peak in the X10 GAIN position.
Maximum DC Component: ±200 V (except VARIABLE GAIN position) in the ac position of the INPUT COUPLING switch. Sensitivity: 1.5 Vrms at maximum gain setting. Coupling: Either direct (dc), or capactive (ac) with low frequency cutoff at approximately 1 Hz. Impedance: Fixed Gain Modes: 1 MO in parallel with 5 pF.
Variable Gain Mode: 5 KO. General Specifications: Load Impedance: Capable of driving any load within the current and voltage limitations of the amplifier. Load Power Factor: 1.0 to zero, leading or lagging.
Temperature Range: 0°C to 45°C. Controls: Front Panel: POWER switch, 3-position push-button GAIN selector, variable GAIN control, 3-position pushbutton DC OFFSET selector, variable OFFSET control, screwdriver control for DC output level. Rear Panel: CHASSIS/FLOATING ground switch. Front Panel Indicators: Power ON, Output OVERLOAD.
Terminals: Front Panel: BNC for INPUT, binding posts for OUTPUT. Rear Panel: BNC for INPUT, binding posts for OUTPUT, ac power receptacle, chassis ground post. Power Requirements: 105-125 or 210-250 volts, single phase, 50-400 Hz, 85 watts quiescent, 400 watts.
Fuse Protection: AC line, 5 A slow-blow (115 V), 2.5 A slow-blow (230 V); output stage unregulated supplies, 1 A fast-blow (each supply) Dimensions: 5.25" H x 16.63" W x 17 D (13.3 cm x 42.2 cm x 43.2 cm) Weight: 35 lbs. (1) Are you the end-user of this item? (2) If you are not the ultimate end-user of the item, please state the ultimate end user's name. (3) What is the ultimate country destination? This item is in the category "Business & Industrial\Test, Measurement & Inspection\Signal Sources & Conditioning\RF & Microwave Amplifiers". The seller is "testeqe" and is located in this country: US.
This item can be shipped worldwide.
MPN: 7500
Maximum Output Power: 75 W
Brand: Krohn-Hite
Frequency Range: DC - 1 MHz
Gain: 0 to 40 dB