New 25W 400MHz-470MHz UHF Ham Radio Power Amplifier For Interphone Hand Sets Car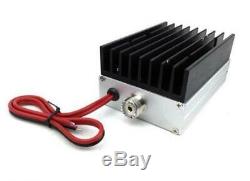 New 25W 400MHz-470MHz UHF Ham Radio Power Amplifier For Interphone Hand Sets Car. This product is a fully automatic internal transceiver integrated circuit and the switching amplifier, increasing the transmission power transceiver for receiving the machine through the antenna, received only the loss of less than 1dB, this loss can be ignored and no effect on the receiver sensitivity.
Hand sets factory sensitivity has been commissioning the machine can achieve optimum sensitivity, generally without additional amplification, but if you increase the amplification receiver dynamic range compression may also cause deterioration of the sensitivity of the industry so there is no amplification of the receiver's hand power amplifier! Common transmit power 2W machine reaches after amplification 19-20W, 5W common transmission power machine reaches after amplification 25W. Make your hand sets immediately become "wagon". Into the family home is OK! Corresponding power Taobao home very much, hundreds of dollars on the line!
It characteristic is omitted power switch, up to a few watts of power when the RF signal input to open only transmit power amplifier, except there is no other way to get power in addition to start. When receiving automatic disconnect the power amplifier, no power when received.
This allows you to never have to be concerned about whether the power has been turned off manually tedious problems. When the transmitter emits red light will light indicating power and, when receiving the light goes out. 1: Frequency Range: 400MHz-470MHz frequency covering all segments U. 2; transmit power: 25 watts maximum, when the input and output 2W 19-20 watts, while the input and output of 5W maximum! 3; receiving loss: better than 1dB, this value is negligible effect on the receiver sensitivity.
4; Power supply :12-14V, power supply voltage, the greater the transmit power, 25 watts is 13.8V measured! 5; Supply Current: launch 3A, does not consume any current receiver. 6; suitable models: U U segment segment operating modes various hand sets and UV two-stage hand Taichung (eg TG-UV2). 7; hand sets power: for a variety of 2-10 watts of transmit power in the hands Desk.
8; Dimensions: 11.5 cm x 8 cm 5 cm (L W H). Note: Often customers save on transmission power of doubt, the final Schedule This article details the actual test values amplifier supply voltage, supply current, and transmit power power meter to U. Imports Bird 43 tables, 50 European standard load of RF attenuation device. 1 Please use this machine comes with RF cable SMA female (gold thread small female) received a hand on the amplifier base station antenna (receiving station where hand tighten the antenna)! That is the figure golden yellow connector to the hand sets.
2 Place your seedling receiving antenna or stick a big needle M amp female head, which is a big needle M amp female connector screwed on your antenna! Antenna generally with a single feeder, the feeder is more coarse as possible, the shorter the better!
Signal attenuation is too small too big! The red line on the positive three hosts connected to the power amplifier, the black wire to the negative power.
Stable output power requirements than current 3A output current when the output voltage of the power supply can not be reduced too much! After the above steps, you can press the start button to start the transmitter station PPT fired, it is easy, uncomplicated, everyone can operate!
The United States imports 43 Bird RF power meter and standard 50 ohm RF load test. Should pay attention to the problem of using. A power cord prohibit reverse, reverse will burn red then positive(+), then negative black(+). 2 To connect the transmitter antenna, the antenna on the transmitter ban did not answer, it would affect the life of the device, or burn amplifier device! SMA male to male connectors 0.5 m cable, SMA female to female adapter. 1X cigarette lighter adapter (car cigarette lighter for access). We believe our items are so outstanding. All products are quality checked. We will be happy to resolve any issues you may have in a cordial and friendly manner. The item "New 25W 400MHz-470MHz UHF Ham Radio Power Amplifier For Interphone Hand Sets Car" is in sale since Wednesday, November 12, 2014.
This item is in the category "Consumer Electronics\Radio Communication\Ham, Amateur Radio\Ham Radio Amplifiers". The seller is "saymlove" and is located in Shen Zhen. This item can be shipped worldwide.
Country/Region of Manufacture: China
Band: UHF
MPN: Does not apply
Brand: Unbranded/Generic