New 80W Ham Radio Power Amplifier Interphone 410-470MHZ DMR DPM RP25 C4FM UHF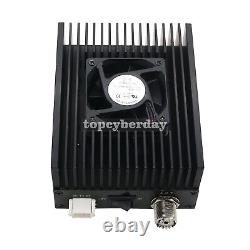 80W DMR DPM RP25 C4FM UHF 410-470MHZ Ham Radio Power Amplifier Interphone. Working mode: half duplex (not acceptable under transmit status). Receiver loss: -1DB + 0.4. Heat dissipation mode: 40 degrees temperature control, air cooling. 80W hand power amplifier, power amplifier and intercom ordinary moments after cars in Taiwan, this product with automatic transceiver circuit, suitable for all U interphone on the market, can be the perfect support for DMR, DPMR, P25 digital and traditional linear simulation model. Note: Antenna SWR will directly affect the output power, you must use SWR less than 1.5 to withstand the power of more than 100W antenna. Our power test using the standard 50 ohm load and SWR meter for the measured.
Working frequency, current correspondence table. 1 x 80W AMP 410-470MHZ.