NEW 88-108MHz 25-30w /12.5V FM FM Amplifier FM transmitter power amplifier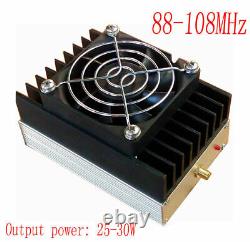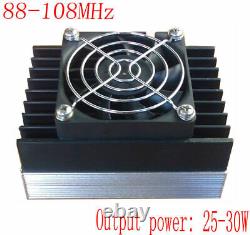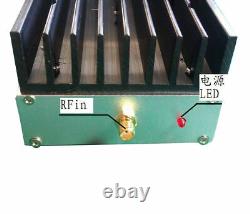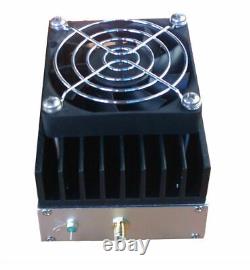 88-108MHz 25-30w /12.5V FM FM Amplifier FM transmitter power amplifier. This baby is designed to increase the power of various FM transmitters.
Use this baby to increase the power of your 1-1.5 watt transmitter to 25-30 watts. Increase transmit power and coverage. The operating frequency is 88 MHz to 108 MHz for the entire FM frequency range. This baby comes with a bearing fan and a large area of?? heat sink, which can work continuously for a long time.
Input power: 1 to 1.5 watts. Working voltage: 12-14V, the higher the voltage, the higher the power, 14V is the highest! More than will burn, the emission power is measured at 12.5V!
13.8V power supply, the output power is even bigger! Input and output impedance: 50 ohms. Harmonic suppression: typical -38dB, the output signal is very clean, of course, the sound quality will be better! Input and output interface: The input and output adopt the international common RF interface SMA female head, which is the small S head with thread!
Power Interface: The power supply uses standard RF feedthrough capacitors with good broadband filtering to eliminate clutter. Remarks: If your transmitter is 5W or other power instead of 1-1.5 watts, we can adjust the power of the amplifier input to meet various 5 watt or other transmit power transmitters according to your requirements!
For high-power transmission, please use the FM transmitter with low performance and low standing wave ratio. It is forbidden to connect some antennas with wrong frequency such as WIFI antenna to this amplifier! Customers can use GP antennas, rod antennas, J-type antennas and other common antennas to launch! Please leave note for your special request e. Please do NOT leave negative or neutral feedback without any contact.
We care about our valued buyers, if you have any questions, our Customer Service staffs will be very glad to help you.