TX2445 2400-2500MHz 30W RF Power Amplifier Module Vehicle Amplifier Module os67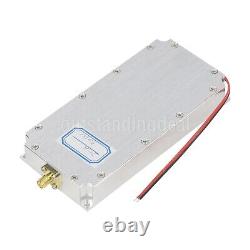 30W RF Power Amplifier Module 50dBm for 2.4G UAV Unmanned Aerial Vehicle Amplifier Module TX2445 Description: - This product is an information security module specifically designed to block the signal transmission of unmanned aerial vehicle ground stations. This module has the advantages of an average output power of 50dBm (100W), sufficient power, good flatness in the band, and small offset between the upper and lower sidebands. The product is equipped with running indicator LED lights, the efficient frequency interference source temperature drift is very small, and is easy to apply. The frequency hopping drone has good countermeasures.
Features: - Pure aluminum cavity, equipped with an efficient frequency sweep interference source, greatly improving the detection sensitivity of the product. It adopts for Rogers board and insure reasonable RF wiring. Small signal control switch, making high and low frequency control applications convenient and efficient.
Application: Mainly applicable to airports, public prosecutor's office systems, prisons, detention centers, drug rehabilitation centers, confidentiality institutions, troops, large-scale events, concerts, important conferences, government agencies, areas that require space confidentiality and drone control. Specification: - Frequency range: 2400 - 2500MHz - Output SWR: =1.5 - Working temperature: - 10 +75? - Output connector: SMA/N Female - Maximum output power: 30W - Power amplifier efficiency: 38% - Working voltage: DC28 32V - Switch control: High and low level - Maximum gain: 44.5 45.5dB - SW protection: OK - Temperature protection: Disconnect at 75° and leak voltage - Flatness: ±1dB - Maximum current: 3.1A - Weight: 0.22KG - Size: 131 x 60 x 15mm Package Included: - 1 x RF Power Amplifier Module.
Usually it costs about 30USD-50USD. If you receive the item that not satisfied or defective, please do not open case and kindly notify us within 30 days.