XDT-PA100X 120W 1.8MHz to 30MHz HF Power Amplifier Module for Transceiver os67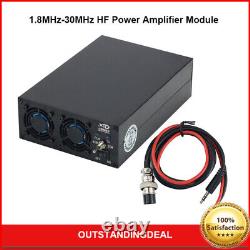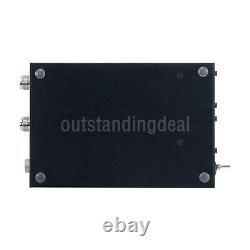 XDT-PA100X 120W 1.8MHz to 30MHz HF Power Amplifier Module Suitable for XIEGU-G90S HF Transceiver Features: Output power is increased to 120W, the input standing wave ratio is reduced, the output harmonics are reduced, and the transmission efficiency is improved Frequency range of 1.8MHz to 30MHz 70W nominal and 120W maximum Power supply 13.8v Input power 1W and output 30W Input power 5W and output 100W Suitable for Xiegu-G90S transceiver Increase power, improve communication effect, with 3pcs 7th-order low-pass filters Package Included: 1 x Power Amplifier 1 x User Manual 1 x Power Cord 1 x Sync Trigger Cable Attention: There are two kinds of sync trigger cables for Xiegu G90 and X5105. Type 1 cable allows direct connection and there is no need to connect to CE-19 data interface expansion board. Choose automatic switching package to support automatic frequency and band switching. Type 2 is a 3.5mm cable which must be used with a CE-19 expansion board to support digital modes such as FT8.
Please inform customer service of the type of trigger cable you want while purchasing. Note: Please see that the wiring of your transceiver and the amplifier is correct to avoid damage. Usually it costs about 30USD-50USD. If you receive the item that not satisfied or defective, please do not open case and kindly notify us within 30 days.